Welcome to my shrine for the site Neopets! I spent most of my childhood feeding my pets, playing games and hanging out on the Neoboards and in my guild, and I have so much nostalgia for the old site and community. I don't play too much anymore but those memories live on, this is just a little place to remember the good old days of the site and celebrate the good (and the weird) memories.
---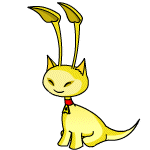 I first learned about Neopets from a friend and made my first account in March 2006. We used to play together after school, scrounging from the Soup Kitchen to feed our pets and playing Meerca Chase side by side. Somehow she managed to get her hands on a Baby Xweetok either through the Pound or a random event and I'm still a little jealous to this day.

We never really understood how to make money and we were too young to use the boards but we understood that having a pet with a real world name was cool, so I remember us scouring a dictionary for words that weren't taken until we finally created a JubJub called "Chiropodist". That pet is still around but belongs to a different owner now, so I guess her old account was deleted. Gone, but never forgotten.
---
Links
By the way, I don't own any of the Neopets branding images or other graphics used on here!

TM & © 2003 NeoPets, Inc. All rights reserved. Used with permission.